F71 Series

Manual setting Fiber optic sensors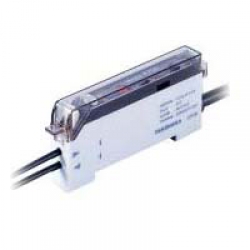 Joint installation of up to 8 units
- With Anti Interference feature -
High accuracy 8-turn sensitivity adjustment
- With position indicator -
30 μs high speed response
- "H" suffix models -
Standard・Official Approval
F71 Series Lineups
Model
Power supply
Control output
Operation mode
Light source
Response time (ms)
Connection
Use application
Download
F71R

12 - 24VDC
NPN
Dark-ON
Light-ON
Red LED
0.250
0.500
Attached cable
semiconductor / LCD
precision instruments / electronic components
F71G

12 - 24VDC
NPN
Dark-ON
Light-ON
Green LED
0.250
0.500
Attached cable
semiconductor / LCD
precision instruments / electronic components
F71B

12 - 24VDC
NPN
Dark-ON
Light-ON
Blue LED
0.250
0.500
Attached cable
semiconductor / LCD
precision instruments / electronic components
F71W

12 - 24VDC
NPN
Dark-ON
Light-ON
White LED
0.250
0.500
Attached cable
semiconductor / LCD
precision instruments / electronic components
F71RPN

12 - 24VDC
PNP
Dark-ON
Light-ON
Red LED
0.250
0.500
Attached cable
semiconductor / LCD
precision instruments / electronic components
F71GPN

12 - 24VDC
PNP
Dark-ON
Light-ON
Green LED
0.250
0.500
Attached cable
semiconductor / LCD
precision instruments / electronic components
F71BPN

12 - 24VDC
PNP
Dark-ON
Light-ON
Blue LED
0.250
0.500
Attached cable
semiconductor / LCD
precision instruments / electronic components
F71WPN

12 - 24VDC
PNP
Dark-ON
Light-ON
White LED
0.250
0.500
Attached cable
semiconductor / LCD
precision instruments / electronic components
F71R-J

12 - 24VDC
NPN
Dark-ON
Light-ON
Red LED
0.250
0.500
M8 connector
semiconductor / LCD
precision instruments / electronic components
F71G-J

12 - 24VDC
NPN
Dark-ON
Light-ON
Green LED
0.250
0.500
M8 connector
semiconductor / LCD
precision instruments / electronic components
F71B-J

12 - 24VDC
NPN
Dark-ON
Light-ON
Blue LED
0.250
0.500
M8 connector
semiconductor / LCD
precision instruments / electronic components
F71W-J

12 - 24VDC
NPN
Dark-ON
Light-ON
White LED
0.250
0.500
M8 connector
semiconductor / LCD
precision instruments / electronic components
F71RPN-J

12 - 24VDC
PNP
Dark-ON
Light-ON
Red LED
0.250
0.500
M8 connector
semiconductor / LCD
precision instruments / electronic components
F71GPN-J

12 - 24VDC
PNP
Dark-ON
Light-ON
Green LED
0.250
0.500
M8 connector
semiconductor / LCD
precision instruments / electronic components
F71BPN-J

12 - 24VDC
PNP
Dark-ON
Light-ON
Blue LED
0.250
0.500
M8 connector
semiconductor / LCD
precision instruments / electronic components
F71WPN-J

12 - 24VDC
PNP
Dark-ON
Light-ON
White LED
0.250
0.500
M8 connector
semiconductor / LCD
precision instruments / electronic components
F71RH

12 - 24VDC
NPN
Dark-ON
Light-ON
Red LED
0.030
Attached cable
semiconductor / LCD
precision instruments / electronic components
F71BH

12 - 24VDC
NPN
Dark-ON
Light-ON
Blue LED
0.030
Attached cable
semiconductor / LCD
precision instruments / electronic components
F71WH

12 - 24VDC
NPN
Dark-ON
Light-ON
White LED
0.030
Attached cable
semiconductor / LCD
precision instruments / electronic components
F71RHPN

12 - 24VDC
PNP
Dark-ON
Light-ON
Red LED
0.030
Attached cable
semiconductor / LCD
precision instruments / electronic components
F71BHPN

12 - 24VDC
PNP
Dark-ON
Light-ON
Blue LED
0.030
Attached cable
semiconductor / LCD
precision instruments / electronic components
F71WHPN

12 - 24VDC
PNP
Dark-ON
Light-ON
White LED
0.030
Attached cable
semiconductor / LCD
precision instruments / electronic components
F71RH-J

12 - 24VDC
NPN
Dark-ON
Light-ON
Red LED
0.030
M8 connector
semiconductor / LCD
precision instruments / electronic components
F71BH-J

12 - 24VDC
NPN
Dark-ON
Light-ON
Blue LED
0.030
M8 connector
semiconductor / LCD
precision instruments / electronic components
F71WH-J

12 - 24VDC
NPN
Dark-ON
Light-ON
White LED
0.030
M8 connector
semiconductor / LCD
precision instruments / electronic components
F71RHPN-J

12 - 24VDC
PNP
Dark-ON
Light-ON
Red LED
0.030
M8 connector
semiconductor / LCD
precision instruments / electronic components
F71BHPN-J

12 - 24VDC
PNP
Dark-ON
Light-ON
Blue LED
0.030
M8 connector
semiconductor / LCD
precision instruments / electronic components
F71WHPN-J

12 - 24VDC
PNP
Dark-ON
Light-ON
White LED
0.030
M8 connector
semiconductor / LCD
precision instruments / electronic components
Feature
Manual high performance model
High accuracy 8-turn adjustment is equipped with a position indicator, which allows direct reading of the adjustment position.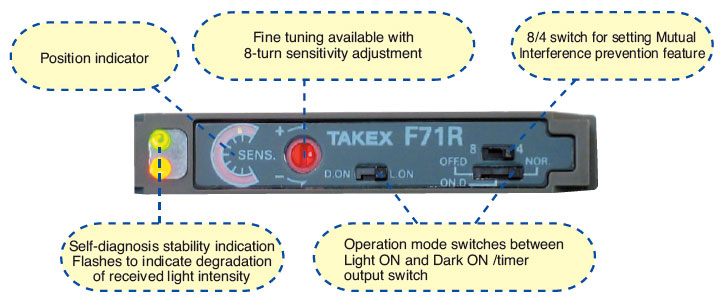 8-unit in-line detection
Optical transmission Mutual
Interference prevention feature
The Anti Interference feature prevents false operation due to mutual interference even if up to 8 units are installed adjacently.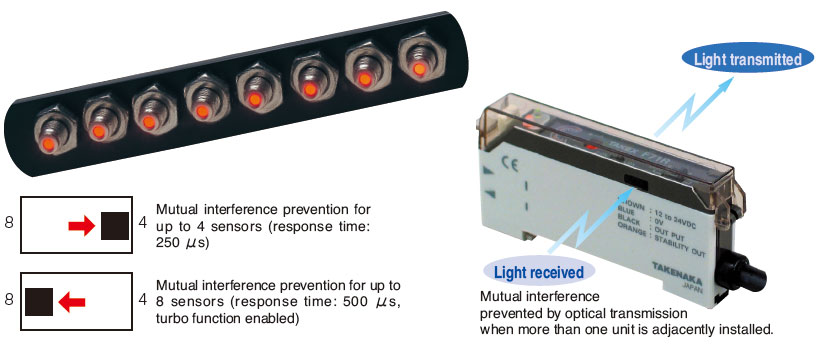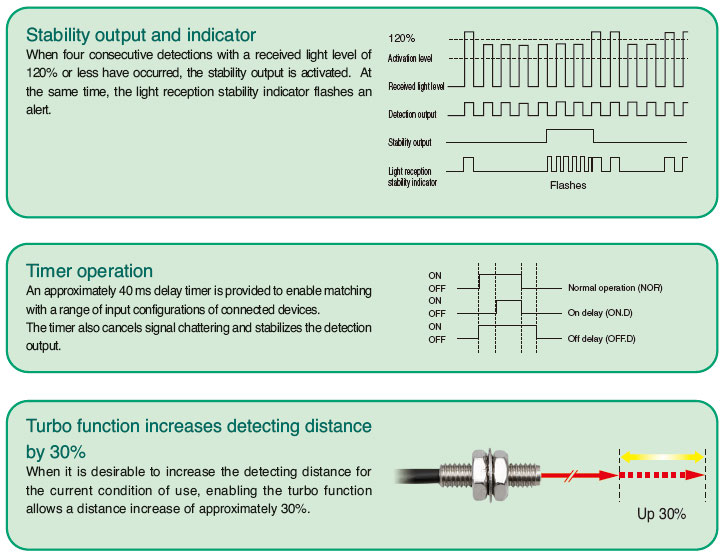 Dimension
Amplifier unit (cable type)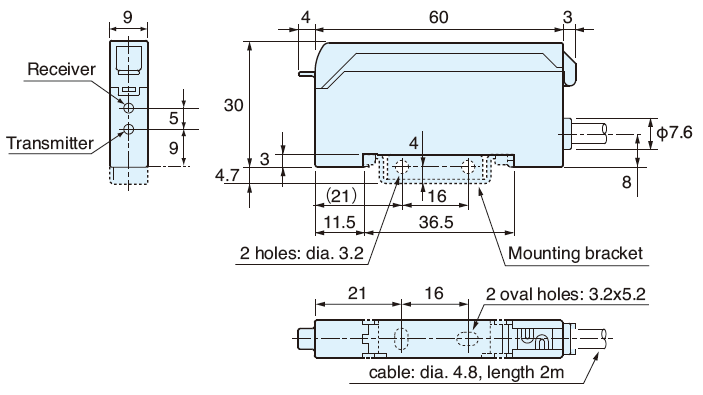 M8 connector type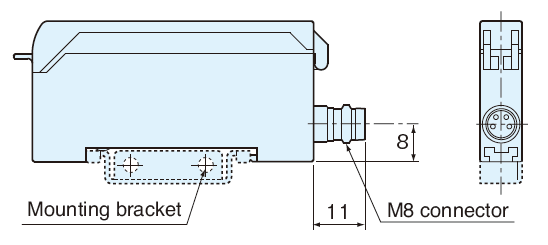 Circuit
NPN output
F71R
F71G
F71B
F71W
F71RH
F71GH
F71BH
F71WH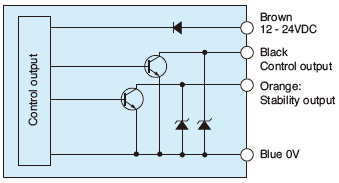 PNP output
F71RPN
F71GPN
F71BPN
F71WPN
F71RHPN
F71GHPN
F71BHPN
F71WHPN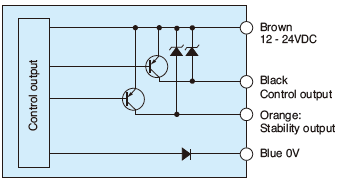 In the condition of load short circuit or overload, the output transistor turns off. Check the load condition before restarting.
M8 Connector Type Input/Output Specification, Pin Assignment and Lead Colors