KD150C

Water-cooled HMD
KD150C Lineups
Model
Type
Detection method
Power supply
Control output
Detecting object temperature
Operating temperature range (C)
Detecting distance (m)
Detecting object (dia.)
KD150C

HMD
Water cooled
Infrared energy radiated
12 - 24VDC
Analog
Open collector
150
‐25~+150
1000.00
75
Feature
KD150C is extremely compact and low cost for amplifierintegrated water-cooled sensors. KD150C directly detects infrared radiation and outputs ON-OFF signals, which is useful for applications such as detection of passage or position of red-hot steel materials including ingots, slabs, steel plates and mold steel.
Water-cooled
KD150C is the smallest of water-cooled sensors with built-in amplifiers and enclosed in robust case that withstands severe operating conditions.
Reasonable cost
High performance allows detection of low temperature (150C or more.) steel material. Streamlined design offers even more reasonable price.
Performance comparable to full size HMDs
Long detecting distance, sensitivity adjustment feature and high sensitivity offer excellent stability.
Attachable airless hood or air purge hood
For the prevention of dirt deposits on lens, dust hoods that do not require air (F38S, F38N) and air purge hoods (302NC-305NC) are available.
Dimension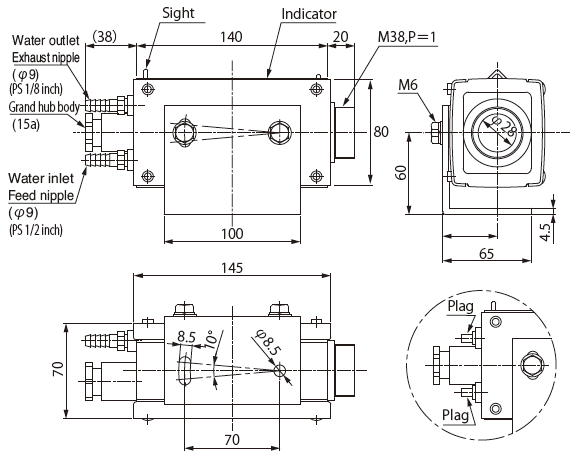 When no cooling is required, the above figure applies instead of nipples.
With Airless hood F38S Series attached

With Airless hood F38N attached

With air purge hood attached

Note: It does not operate with heat source with high temperature such as a cigarette lighter. When checking the operation, use a heat source corresponding to the temperature of detection
Area
Detection field of view