FD-A310C Series

Fiber type / HMD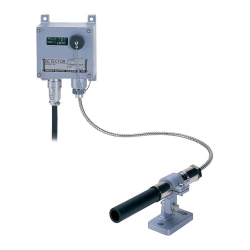 Focus on basic functions for low cost
Compact, lightweight amplifier
Flexible heat resistant fiber optic cables
FD-A310C Series Lineups
| Model | Type | Power supply | Control output | Download |
| --- | --- | --- | --- | --- |
| FD-A310C | Fiber type | 100 - 220VAC | Relay output | |
| FD-A310CM | Fiber type | 100 - 220VAC | Photo-MOS relay output | |
Feature
FD-A310 C series are hot metal detectors (HMDs) that directly detect infrared radiation from heated glass or steel.
Glass fiber optic cables with high heat resistance and transmission factor are used for detecting heads, which transmit the detected infrared rays to amplifiers that amplifies the signals for output.
Two output types are available: mini power relay output and photo-MOS relay output for AC/DC control.
Dimension
Amplifier unit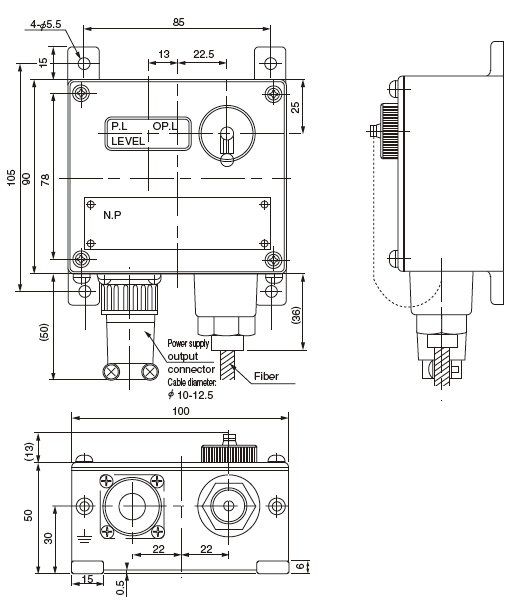 Fiber optic cable

Optical head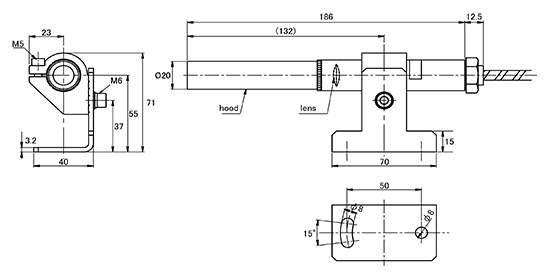 Circuit
FD-A310C (Relay output type)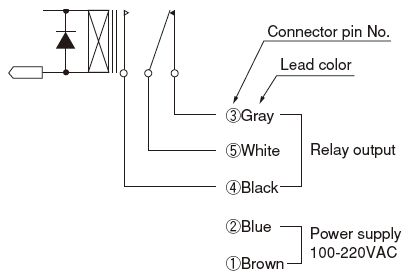 FD-A310CM (Photo MOS relay output type)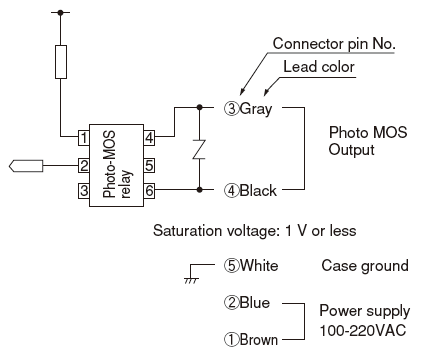 Area
Detection field of view (mm)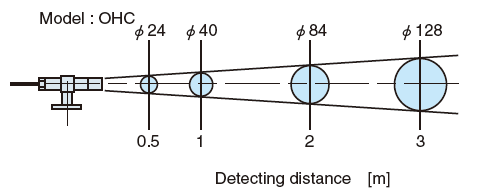 Steel/Ceramic
Detection of formed bottles
HMD used for the detection of hot formed bottles.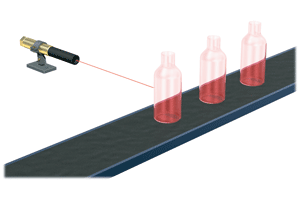 Option
Fiber optic cable
Fiber optic cable

GT205AD

| | |
| --- | --- |
| Description | Fiber optic cable |
| Length | 0.5m |
| Lowest detection temperature | 320℃ |
| Protective structure | Heat resistance 200 °C, IP 67 |
| Note | <p>*)These temperatures are inherent performance applicable when heated material is larger than the detecting field of view. For actual usage, consider at least 50 °C above these temperatures as guidelines. Heated material smaller than the field increases the lowest detectable temperature.</p> |

Fiber optic cable

GT21AD

| | |
| --- | --- |
| Description | Fiber optic cable |
| Length | 1m |
| Lowest detection temperature | 330℃ |
| Protective structure | Heat resistance 200 °C, IP 67 |
| Note | <p>*)These temperatures are inherent performance applicable when heated material is larger than the detecting field of view. For actual usage, consider at least 50 °C above these temperatures as guidelines. Heated material smaller than the field increases the lowest detectable temperature.</p> |

Fiber optic cable

GT22AD

| | |
| --- | --- |
| Description | Fiber optic cable |
| Length | 2m |
| Lowest detection temperature | 350℃ |
| Protective structure | Heat resistance 200 °C, IP 67 |
| Note | <p>*)These temperatures are inherent performance applicable when heated material is larger than the detecting field of view. For actual usage, consider at least 50 °C above these temperatures as guidelines. Heated material smaller than the field increases the lowest detectable temperature.</p> |

Fiber optic cable

GT23AD

| | |
| --- | --- |
| Description | Fiber optic cable |
| Length | 3m |
| Lowest detection temperature | 370℃ |
| Protective structure | Heat resistance 200 °C, IP 67 |
| Note | <p>*)These temperatures are inherent performance applicable when heated material is larger than the detecting field of view. For actual usage, consider at least 50 °C above these temperatures as guidelines. Heated material smaller than the field increases the lowest detectable temperature.</p> |

Fiber optic cable

GT25AD

| | |
| --- | --- |
| Description | Fiber optic cable |
| Length | 5m |
| Lowest detection temperature | 390℃ |
| Protective structure | Heat resistance 200 °C, IP 67 |
| Note | <p>*)These temperatures are inherent performance applicable when heated material is larger than the detecting field of view. For actual usage, consider at least 50 °C above these temperatures as guidelines. Heated material smaller than the field increases the lowest detectable temperature.</p> |

Fiber optic cable

GT27AD

| | |
| --- | --- |
| Description | Fiber optic cable |
| Length | 7m |
| Lowest detection temperature | 410℃ |
| Protective structure | Heat resistance 200 °C, IP 67 |
| Note | <p>*)These temperatures are inherent performance applicable when heated material is larger than the detecting field of view. For actual usage, consider at least 50 °C above these temperatures as guidelines. Heated material smaller than the field increases the lowest detectable temperature.</p> |

Fiber optic cable

GT210AD

| | |
| --- | --- |
| Description | Fiber optic cable |
| Length | 10m |
| Lowest detection temperature | 430℃ |
| Protective structure | Heat resistance 200 °C, IP 67 |
| Note | <p>*)These temperatures are inherent performance applicable when heated material is larger than the detecting field of view. For actual usage, consider at least 50 °C above these temperatures as guidelines. Heated material smaller than the field increases the lowest detectable temperature.</p> |
Optical head
Optical head

OHC

| | |
| --- | --- |
| Description | Optical head |
| Heat resistance | 200℃ |
| Protective structure | IP67 |