KL(R)50 Series

Water cooled CMD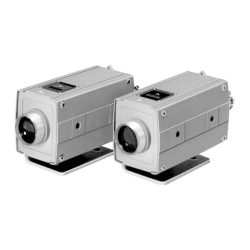 Long distance (50 m) detection with high sensitivity
Compact, robust and inexpensive
Operating temperature: ?10 - +150 °C
KL(R)50 Series Lineups
| Model | Type | Power supply | Control output | Download |
| --- | --- | --- | --- | --- |
| KLR50 | Water-cooled | 100 - 110VAC/200 - 220VAC | Relay output | |
| KLR50E | Water-cooled | 100 - 110VAC/200 - 220VAC | Voltage output | |
Feature
The KL(R)50 Series sensors are through beam type CMDs that output ON-OFF signals by detecting blocking of light by the detected object that passes between the transmitter and receiver.
For receivers, relay output and voltage output types are available depending on the output mode.
Compact, low cost
Streamlined design provides the smallest size and lowest cost of all water cooled, amplifier built in type sensors
Robust and light weight case
Robust case capable of withstanding severe operating conditions such as heat, water and shock also offering light weight is employed.
Fully prepared for external light disruption
Unique circuitry ensures stable operation and high reliability under red-hot steel material of over 1,000 C
Excellent stability
Received optical output about ten fold of operation level at detecting distance of 50 m ensures detection even with minor soiling of lens or in adverse environment.
Optical sight convenient for alignment
Both transmitter and receiver are provided with optical sight that facilitates optical axis alignment
Attachable airless dust hood or air purge hood
Different types of airless dust hoods and air purge hoods are available for prevention of soiling of lens, etc.
Dimension
Transmitter/receiver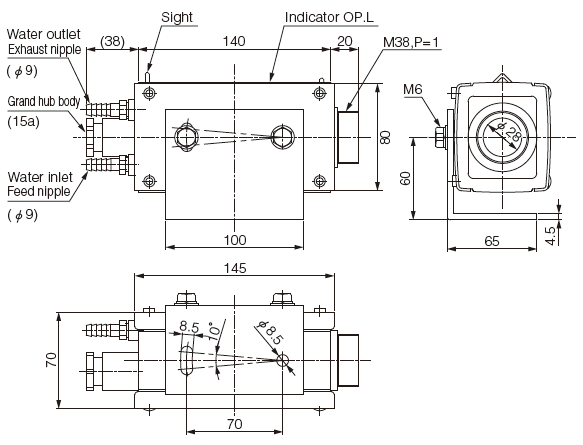 With Airless hood F38S Series attached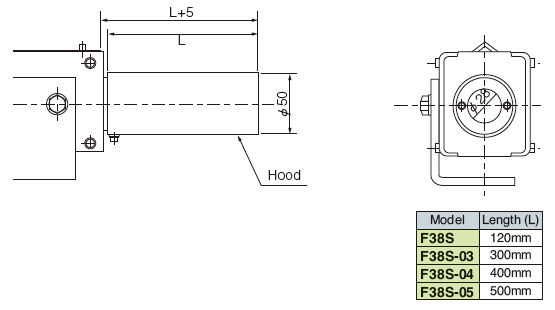 With Airless hood F38N attached

With air purge hood attached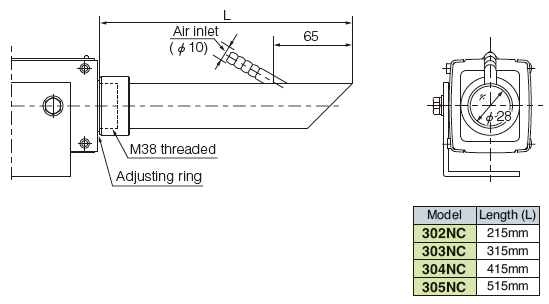 Circuit
Control output