KD50 Series

Water-cooled HMD
KD50 Series Lineups
| Model | Type | Power supply | Control output | Download |
| --- | --- | --- | --- | --- |
| KD50 | Water-cooled | 100 - 110VAC/200 - 220VAC | Relay output | |
| KD50W | Water-cooled | 100 - 110VAC/200 - 220VAC | Relay output | |
Feature
The KD50 Series HMDs are extremely compact and low cost for an amplifier-integrated water cooled sensors. The KD50 Series sensors directly detect infrared radiation and output ON-OFF signals, which is useful for applications such as detection of passage or position of red-hot steel materials including ingots, slabs, steel plates and mold steel.
Water-cooled
The KD50 Series sensors are the smallest of watercooled sensors with built-in amplifiers and are enclosed in a robust case that withstands severe operating conditions.
Narrow view and wide view types available
Choice between narrow view and wide view types allows selection according to installation conditions, etc.
Reasonable Cost
High performance allows detection of low temperature (450 C or more) steel material. Streamlined design offers even more reasonable price.
Performance comparable to full size HMDs
Long detecting distance, sensitivity adjustment feature and high sensitivity offer excellent stability
Airless hood or air purge hood attachable
Prevents dirt deposits on lens, dust hoods that do not require air (F38S, F38N) and air purge hoods (302NC-305NC) are available.
Dimension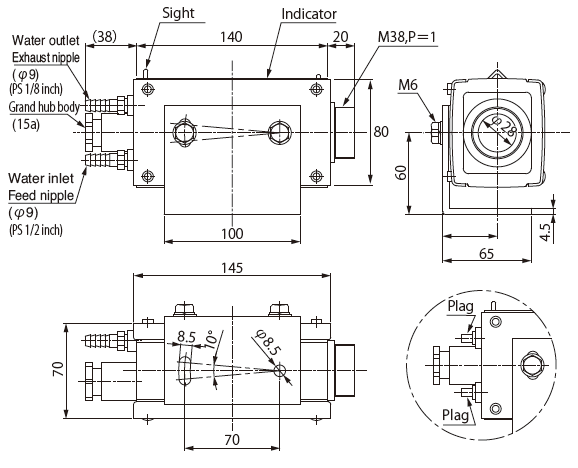 With Airless hood F38S Series attached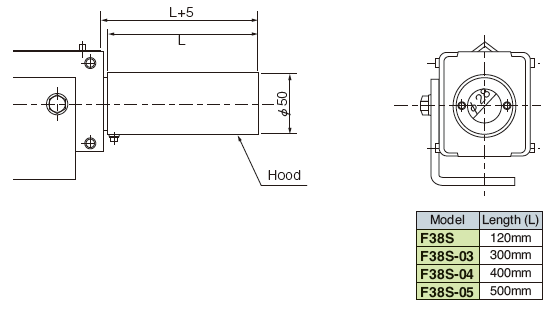 With Airless hood F38N attached

With air purge hood attached
Area
Narrow view type
KD50
KD50E

Wide view type
KD50W