F70 Series

Digital display Fiber optic sensors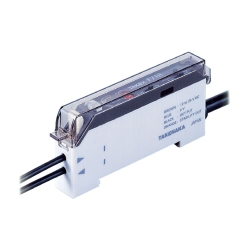 Digital indication of sensing information
Various advanced functions provide for optimum use of the sensor
Unparalleled "high resolution" allows highly accurate detection
Readily visible backlight LCD
Standard・Official Approval
F70 Series Lineups
Model
Power supply
Control output
Operation mode
Light source
Response time (ms)
Connection
Use application
Download
F70R

12 - 24VDC
NPN
Dark-ON
Light-ON
Red LED
0.500
0.600
Attached cable
semiconductor / LCD
precision instruments / electronic components
F70G

12 - 24VDC
NPN
Dark-ON
Light-ON
Green LED
0.500
0.600
Attached cable
semiconductor / LCD
precision instruments / electronic components
F70B

12 - 24VDC
NPN
Dark-ON
Light-ON
Blue LED
0.500
0.600
Attached cable
semiconductor / LCD
precision instruments / electronic components
F70W

12 - 24VDC
NPN
Dark-ON
Light-ON
White LED
0.500
0.600
Attached cable
semiconductor / LCD
precision instruments / electronic components
F70RPN

12 - 24VDC
PNP
Dark-ON
Light-ON
Red LED
0.500
0.600
Attached cable
semiconductor / LCD
precision instruments / electronic components
F70GPN

12 - 24VDC
PNP
Dark-ON
Light-ON
Green LED
0.500
0.600
Attached cable
semiconductor / LCD
precision instruments / electronic components
F70BPN

12 - 24VDC
PNP
Dark-ON
Light-ON
Blue LED
0.500
0.600
Attached cable
semiconductor / LCD
precision instruments / electronic components
F70WPN

12 - 24VDC
PNP
Dark-ON
Light-ON
White LED
0.500
0.600
Attached cable
semiconductor / LCD
precision instruments / electronic components
F70R-JE

12 - 24VDC
NPN
Dark-ON
Light-ON
Red LED
0.500
0.600
M8 connector
semiconductor / LCD
precision instruments / electronic components
F70G-JE

12 - 24VDC
NPN
Dark-ON
Light-ON
Green LED
0.500
0.600
M8 connector
semiconductor / LCD
precision instruments / electronic components
F70B-JE

12 - 24VDC
NPN
Dark-ON
Light-ON
Blue LED
0.500
0.600
M8 connector
semiconductor / LCD
precision instruments / electronic components
F70W-JE

12 - 24VDC
NPN
Dark-ON
Light-ON
White LED
0.500
0.600
M8 connector
semiconductor / LCD
precision instruments / electronic components
F70RPN-JE

12 - 24VDC
PNP
Dark-ON
Light-ON
Red LED
0.500
0.600
M8 connector
semiconductor / LCD
precision instruments / electronic components
F70GPN-JE

12 - 24VDC
PNP
Dark-ON
Light-ON
Green LED
0.500
0.600
M8 connector
semiconductor / LCD
precision instruments / electronic components
F70BPN-JE

12 - 24VDC
PNP
Dark-ON
Light-ON
Blue LED
0.500
0.600
M8 connector
semiconductor / LCD
precision instruments / electronic components
F70WPN-JE

12 - 24VDC
PNP
Dark-ON
Light-ON
White LED
0.500
0.600
M8 connector
semiconductor / LCD
precision instruments / electronic components
F70G-JS

12 - 24VDC
NPN
Dark-ON
Light-ON
Green LED
0.500
0.600
M8 connector
semiconductor / LCD
precision instruments / electronic components
F70B-JS

12 - 24VDC
NPN
Dark-ON
Light-ON
Blue LED
0.500
0.600
M8 connector
semiconductor / LCD
precision instruments / electronic components
F70GPN-JS

12 - 24VDC
PNP
Dark-ON
Light-ON
Green LED
0.500
0.600
M8 connector
semiconductor / LCD
precision instruments / electronic components
F70BPN-JS

12 - 24VDC
PNP
Dark-ON
Light-ON
Blue LED
0.500
0.600
M8 connector
semiconductor / LCD
precision instruments / electronic components
Feature
Excellent detection performance
Built-in high resolution provides highly accurate detection
The "electronic volume" switches the sensitivity range, each of which is divided into 1024 levels.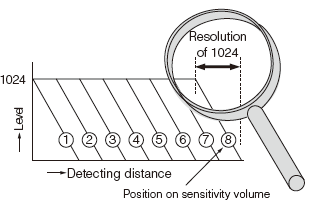 Wide dynamic range and high resolution are achieved
High resolution is maintained even with a wide dynamic range.
The electronic volume feature ensures compatibility between a wide dynamic range and high resolution.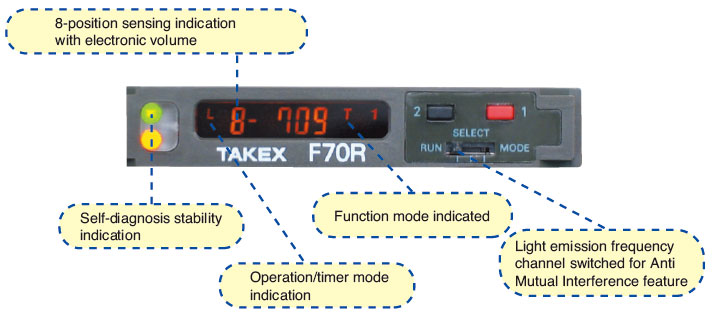 Display functions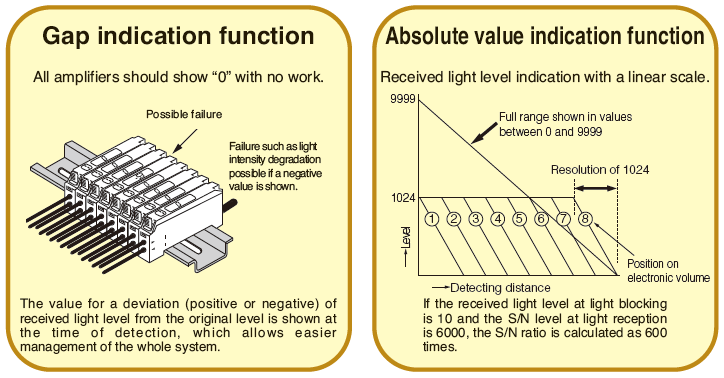 Enhanced teaching features (sensitivity setting)
- Supporting high resolution
Full auto teaching
Simply pressing the button allows easy teaching of an object moving at a high speed.
The teach hold feature allows indication of the maximum and minimum data.
Auto teaching
2-point teaching "with" and "without" the work allows the detection of slight level differences such as the thickness of a piece of work and the presence of a film.
Positioning teaching
This feature is ideal for high accuracy positioning that requires accurate determination of a detecting point.
Maximum sensitivity setting
For applications requiring a "maximum" sensitivity setting such as the detection of work with a through beam type fiber optic cable. The incorporated extra powerful light would allow use in an adverse environment.
Manual setting
Arbitrary manual increase and decrease of a set-point level allows level setting while checking the operation.
Auto sensing function compensates for adverse environment

The level of received light is constantly monitored and fluctuation is detected and automatically adjusts the activation/deactivation level.
Stable detection at optimum sensitivity is ensured even if the received light level frequently fluctuates due to dust or water drops.

Manual hysteresis setting feature

The hysteresis can be arbitrarily set according to the application, allowing setting of a small hysteresis for severe, high accuracy detection and a large hysteresis for detection of large variation and prevention of chattering.

Timer functions

On delay, off delay and on off delay timer functions are provided, which allows for a wide range of detecting and input conditions from the connected devices.
The delay time setting is variable between:
10 ms, 20 ms, 40 ms, 60 ms, 80 ms, 100 ms and 120 ms.

Teach hold function

The sensor has the ability to hold instantaneous data for an object moving at a high rate of speed during full auto teaching.
This data is displayed when the teaching has been completed.

Dimension
Amplifier unit (cable type)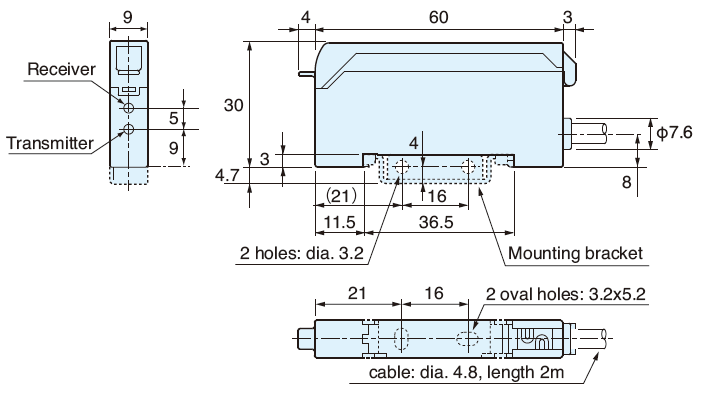 M8 connector type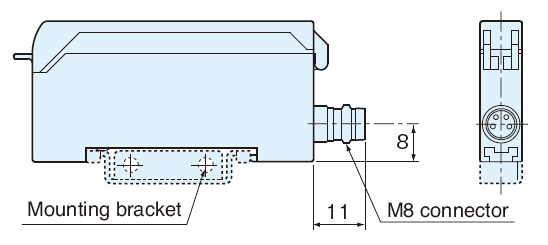 Circuit
NPN output
F70R
F70G
F70B
F70W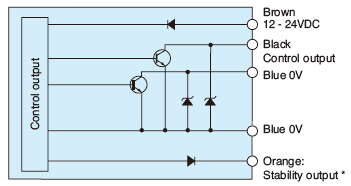 PNP output
F70RPN
F70GPN
F70BPN
F70WPN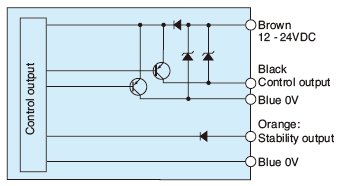 * When not using external teaching, cut the pink cable at the foot or connect it to the positive terminal (NPN output) or 0V (PNP output).
In the condition of load short-circuit or overload, the output transistor turns off. Check the load condition before restarting.
M8 Connector Type Input/Output Specification, Pin Assignment and Lead Colors

Textile
Fabric seam detection
Seam of adjacent cloths detected in dyeing process.