F85RN Series

Dual display fiber optic sensor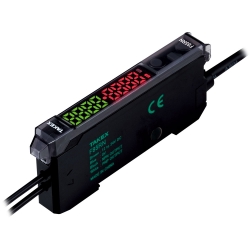 F85RN Series Lineups
Model
Power supply
Control output
Operation mode
Light source
Response time (ms)
Connection
Use application
Download
F85RN

12 - 24VDC
NPN
PNP
Dark-ON
Light-ON
Four-element (ALGainP) LED
0.065 - 4.000
Attached cable
F85RNP-J

12 - 24VDC
NPN
PNP
Dark-ON
Light-ON
Four-element (ALGainP) LED
0.065 - 4.000
M8 connector
Feature
User-friendly operability with essential functions
1. Simple teaching using a single button

Simple to sequentially select from four teaching modes using the [SET] button.


2. Easy to use with a large display and only three operation buttons

Two large clear 4-digit, 7-segment LED displays and three raised buttons with positive click feedback, making mode setting easy.


3. Mutual interference prevention function

Equipped with an optical transmission type mutual interference prevention function to suppress the interference between up to eight units. (Standard and Long mode)

Useful functions
4. Two types of display options available

Light intensity received by two or more sensors can be easily read and compared by two displacement display options: Percentage for Through Beam type, and Zero Offset for Reflective type.

Detection allowance can be checked by comparing the percentage values of each sensor operation through the displacement display.
(The below examples show deterioration in detection allowance of Through Beam type.)


5. Light source intensity adjustment (Automatic/Manual)

Light intensity is adjusted to an optimum level for detection among 15 stages (13 stages at high-speed mode).


6. NPN/PNP dual output

As both connection types for the control output are available, configuring the output as PNP or NPN is not necessary.


7. An energy-saving design and ECO mode realize low power consumption

24V normal mode : 770 mW or less / ECO mode: 600 mW or less

8. Manuals can be viewed on smartphones or tablets

The sensor comes with a QR code label and a quick reference guide is available on your smartphone or tablet (Japanese, English, Chinese, and Korean versions available). This is useful when checking the manual or changing the settings at installation site.

Dimension
F85RN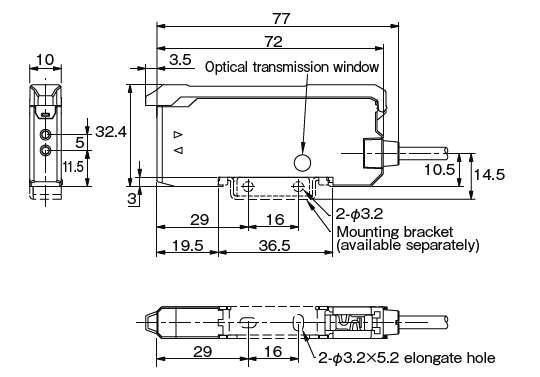 F85RNP-J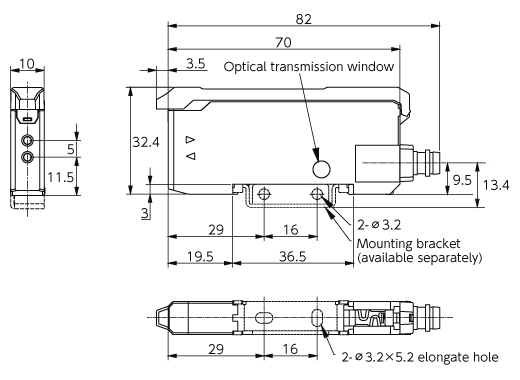 Circuit
F85RN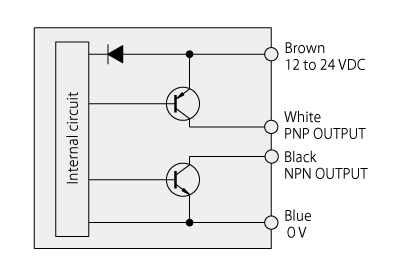 F85RNP-J

Semiconductor
Semiconductor
Electronic Component Mounting
Automatic assembly
Textile
Electronic Component Mounting
Semiconductor
Automatic assembly
Metal processing
Textile
Packaging/Food/Drug
Packaging/Food/Drug
Option
End unit
FA7EU

| | |
| --- | --- |
| Description | DIN rail mounting stopper |
Mounting bracket
| | | |
| --- | --- | --- |
| | AC-BF3 | |
Cable with connector
FBC-4R2S

| | |
| --- | --- |
| Application model | For M8 connector type |
| Shape | Straight with 4 cores cable, 2 m (transmitter/receiver) |
| Cable length | 2m |

FBC-4R2L

| | |
| --- | --- |
| Description | Cord with M8 connector |
| Application model | For M8 connector type |
| Shape | Angled with 4 cores cable, 2 m (transmitter/receiver) |
| Cable length | 2m |
| | |