F70K Series

Simplified wiring connection type Fiber optic sensors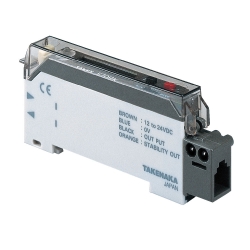 Digital display
Auto sensitivity setting
Manual sensitivity setting
The "new" wire saving connection system compatible with major fiber amplifier models
Standard・Official Approval
F70K Series Lineups
Model
Power supply
Control output
Operation mode
Light source
Response time (ms)
Connection
Use application
Download
F70RK

12 - 24VDC
NPN
Dark-ON
Light-ON
Red LED
0.500
0.600
Wire saving connector type
semiconductor / LCD
precision instruments / electronic components
F70GK

12 - 24VDC
NPN
Dark-ON
Light-ON
Green LED
0.500
0.600
Wire saving connector type
semiconductor / LCD
precision instruments / electronic components
F70BK

12 - 24VDC
NPN
Dark-ON
Light-ON
Blue LED
0.500
0.600
Wire saving connector type
semiconductor / LCD
precision instruments / electronic components
F70RKPN

12 - 24VDC
PNP
Dark-ON
Light-ON
Red LED
0.500
0.600
Wire saving connector type
semiconductor / LCD
precision instruments / electronic components
F70GKPN

12 - 24VDC
PNP
Dark-ON
Light-ON
Green LED
0.500
0.600
Wire saving connector type
semiconductor / LCD
precision instruments / electronic components
F70BKPN

12 - 24VDC
PNP
Dark-ON
Light-ON
Blue LED
0.500
0.600
Wire saving connector type
semiconductor / LCD
precision instruments / electronic components
Feature
Convenient feature
Single power supply feeds up to 16 units
Power can be supplied to all units in one group (up to 16 units) by simply feeding power supply to any single unit through the power/output connector.
Stand alone use is also available.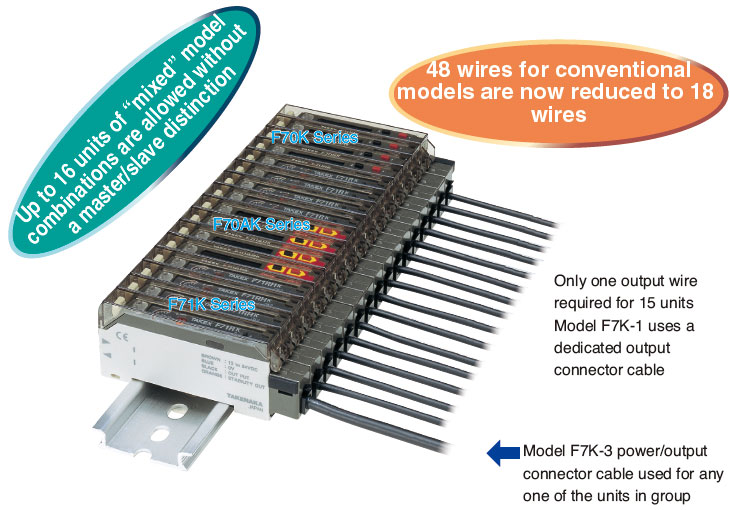 Innovative mini connector employed
4 types of connector cables available according to input/output function required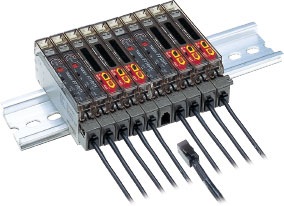 Replacement of connector cables simply by detaching and attaching connectors without moving sensors
Dimension
Amplifier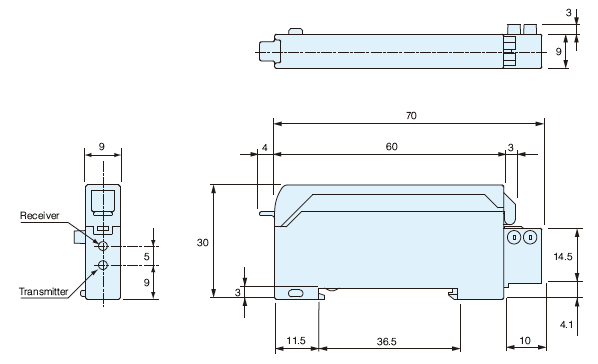 With dedicated connector cable attached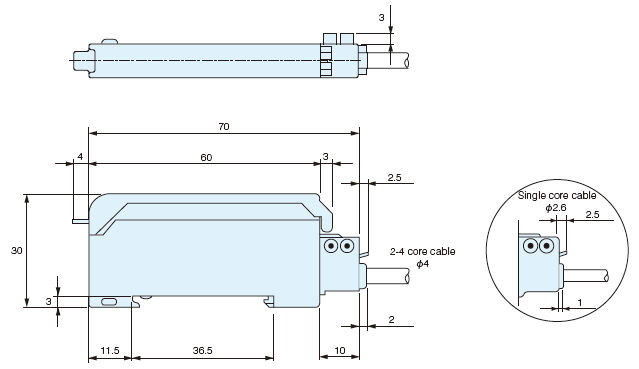 Circuit
NPN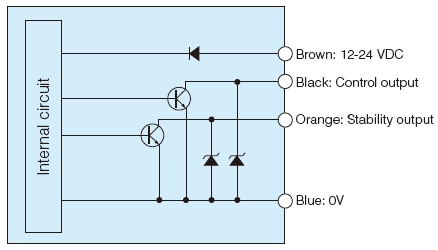 PNP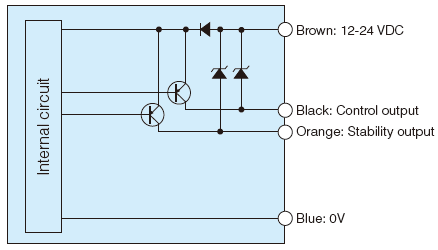 In the condition of load short circuit or overload, the output transistor turns off. Check the load condition before restarting.
Connection diagram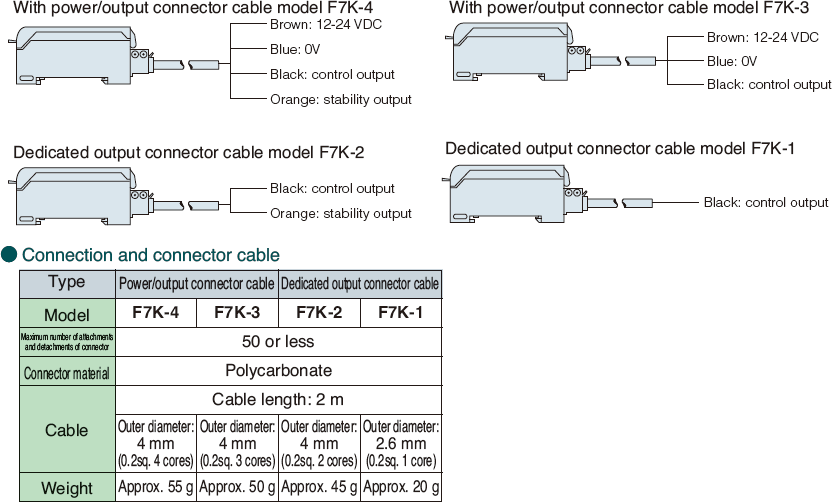 For simplified wiring, use the dedicated connector cable which is separately sold.
The connector cable can be attached or detached as amplifiers are joined together without sliding them to either side.
Option
Cable with connector
Dedicated connector cable

F7K-4

Description
Power/output connector cable
Description
4 leads : power supply, 0V, control output, stability output
Maximum number of attachments and detachments of connector
50 or less
Connector material
Polycarbonate
Cable
Cable length : 2 m
Outer diameter : 4 mm (0.2sq. 4 cores)
Weight
Approx. 55g

Dedicated connector cable

F7K-3

Description
Power/output connector cable
Description
3 leads : power supply, 0V, control output
Maximum number of attachments and detachments of connector
50 or less
Connector material
Polycarbonate
Cable
Cable length : 2 m
Outer diameter : 4 mm (0.2sq. 3 cores)
Weight
Approx. 50g

Dedicated connector cable

F7K-2

Description
Dedicated output connector cable
Description
2 leads : control output, stability output
Maximum number of attachments and detachments of connector
50 or less
Connector material
Polycarbonate
Cable
Cable length : 2 m
Outer diameter : 4 mm (0.2sq. 2 cores)
Weight
Approx. 45g

Dedicated connector cable

F7K-1

Description
Dedicated output connector cable
Description
1 lead : control output
Maximum number of attachments and detachments of connector
50 or less
Connector material
Polycarbonate
Cable
Cable length : 2 m
Outer diameter : 2.6 mm (0.2sq. 1 core)
Weight
Approx. 20g