SSXU20 Series

Ultra-thin Light Curtain Sensor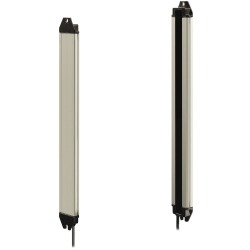 Improved versatility while maintaining our slim profile.

Ultra-thin light curtain sensor of only 9.9 mm in thickness
Switchable between parallel beam and cross beam modes
NPN or PNP output selectable
Eight selections of detection width from 160 mm to 720 mm
Standard・Official Approval
SSXU20 Series Lineups
Model
Type
Detection method
Detecting distance Min (mm)
Detecting distance (mm)
Detecting object (dia.)
Beam interval (mm)
Detecting width (mm)
Control output
Download
SSXU20-T160

Light curtain sensor
Through beam
- 4000
15.0
20.0
160
NPN
PNP
SSXU20-T240

Light curtain sensor
Through beam
- 4000
15.0
20.0
240
NPN
PNP
SSXU20-T320

Light curtain sensor
Through beam
- 4000
15.0
20.0
320
NPN
PNP
SSXU20-T400

Light curtain sensor
Through beam
- 4000
15.0
20.0
400
NPN
PNP
SSXU20-T480

Light curtain sensor
Through beam
- 4000
15.0
20.0
480
NPN
PNP
SSXU20-T560

Light curtain sensor
Through beam
- 4000
15.0
20.0
560
NPN
PNP
SSXU20-T640

Light curtain sensor
Through beam
- 4000
15.0
20.0
640
NPN
PNP
SSXU20-T720

Light curtain sensor
Through beam
- 4000
15.0
20.0
720
NPN
PNP
Feature
Light curtain sensor of only 9.9 mm in thickness
Switchable between parallel beam and cross beam modes

Suitable detection mode selectable for the application

Smaller objects can be detected by cross beam mode

Minimum detection objects: φ15 mm or more at cross beam, φ25 mm or more at parallel beam


High robustness

A robust metal case of 30 mm × 9.9 mm is employed as the sensor housing. Optimum for mounting the sensor on aluminum construction frames with the holes at the center of the brackets.

Variety of lineups

Eight selection of the detection width from 160 to 720 mm are available.


Mutual interference prevention

The mutual interference prevention function allows wider detection area by the sensors stacked or arranged in parallel beam mode.

Dimension
Dimensions (Unit : mm)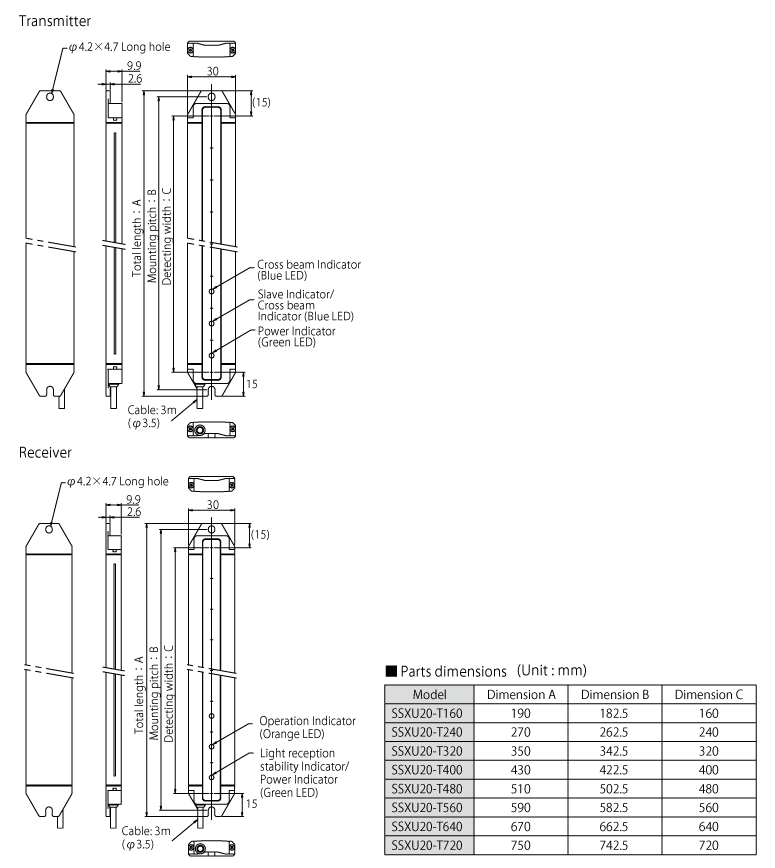 Circuit
Parallel beam mode

Cross beam mode

Rubber/Plastic
Printing
Metal processing
Rubber/Plastic