HD Series

Simple type HMD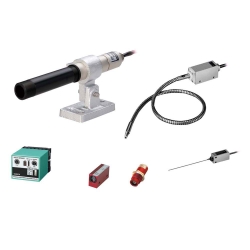 Low temperature model: 350 °C or more
Medium/high temperature model: 650 °C or more
Medium/high temperature model: 430°C or more (with HD400 + GT205)
560 °C or more (HD502F)
HD Series Lineups
Model
Type
Detection method
Power supply
Control output
Detecting object temperature
Operating temperature range (C)
Detecting distance (m)
Detecting object (dia.)
HD301N

HMD
Simplified
Infrared energy radiated
100/110VAC・200/220VAC
Relay
Voltage
350
‐25~+50
0.50
30
HD601N

HMD
Simplified
Infrared energy radiated
100/110VAC・200/220VAC
Relay
Voltage
650
‐25~+70
0.50
25
HD400

HMD
Simplified
Infrared energy radiated
100/110VAC・200/220VAC
Relay
Voltage
430
‐25~+50
0.02
8
HD502F

HMD
Simplified
Infrared energy radiated
100/110VAC・200/220VAC
Relay
Voltage
560
‐25~+50
50.00
21
Feature
The HD Series HMDs are radiation detection photo sensors with separate amplifiers that have achieved compact sizes and low cost.
HD301N and HD601N are intended for sites where temperature in the vicinity of the receiver is up to 50 or 70 C and available in models for low temperature and medium/high temperature. Applications include detection of presence or passage of heated steel material, glass, etc.
HD400 and 502F are fiber optic cable sensors with ultrasmall heads.
Applications include detection of heated steel material, glass, etc.
Low cost
The HD Series offers the lowest cost of all HMDs. Amplifiers are separately installed and no watercooling is involved.
Airless hood provided
The HD Series sensors come with Airless hood for prevention of soiling of lens.
Fiber type
HD 400 may be used in combination with heat resistant generic fiber optic cables, which improves the resistance to heat and electric safety of the sensing head. Attaching a lens unit at the end extends the detecting distance.
HD502F is the most competitive model of HMD. The fiber optic cable covered with ø1.1mm stainless tube allows focused detection of heated condition of electronic components or mechanical parts.
Compact multifunctional amplifier (HDA300A)
3 point level indicator
The received light intensity level is shown by flashing 3 indictors for easy checking of stability.
Sensitivity adjustment volume
Relay output and voltage output available
Dimension
(Sensor) model HD400
(Sensor) model HD301N・HD601N
(Sensor) model HD502F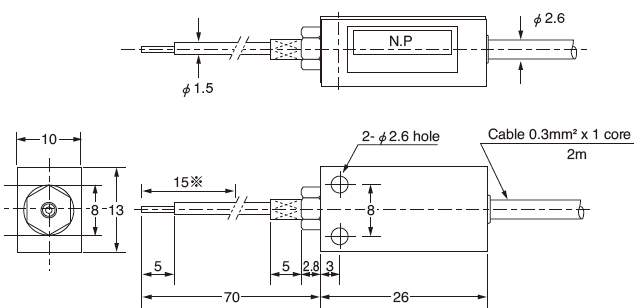 Amplifier unit HDA300A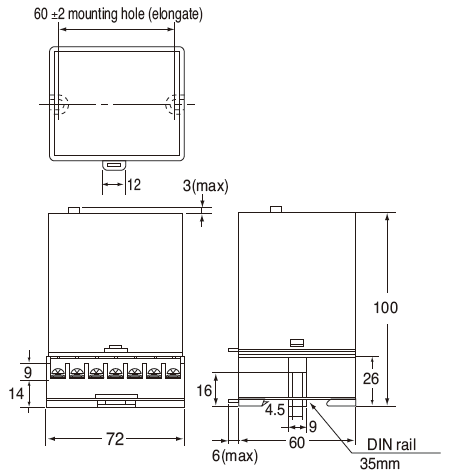 Circuit
Connection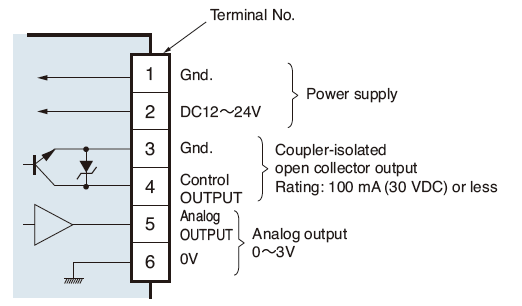 Note) The open collector output is isolated from power supply. The analog output "0" and "0" of power supply have different potentials. Do not common.
Area
Cable connection type
Model HD301N (low temperature)
Model HD601N (high temperature)
Fiber type
Model HD400
Model HD502F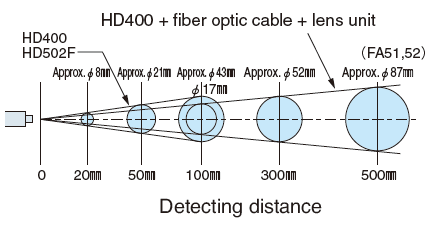 Option
Amplifier
Amplifier

HDA300A

Description
Amplifier
Connection
Terminal block (3.5mm screws)
Ambient temperature
-10°C to 50°C (non-freezing)
Ambient humidity
35-85%RH (non-condensing)
Insulation resistance
500VDC 20MΩ or higher *1
Dielectric withstanding
1500VAC for 1 minute *1
Protective structure
IP20
Weight
Approx. 450 g (including socket)
Note
<p>*1 Between case and grounding terminal (No. 1), Between case and relay contacts (collective), Between grounding terminal (No. 1) and relay contacts (collective)<br>
Between case and entire power supply, Between grounding terminal (No. 1) and entire power supply, Between entire power supply and relay contacts (collective)</p>
Lens unit
Lens unit

FA51

Lens unit

FA52
Fiber optic cable
Fiber optic cable

GT205

| | |
| --- | --- |
| Description | Fiber optic cable |
| Length | 0.5m |

Fiber optic cable

GT21

| | |
| --- | --- |
| Description | Fiber optic cable |
| Length | 1m |

Fiber optic cable

GT22

| | |
| --- | --- |
| Description | Fiber optic cable |
| Length | 2m |

Fiber optic cable

GT23

| | |
| --- | --- |
| Description | Fiber optic cable |
| Length | 3m |