SS40 Series

Slim type Light Curtain Sensors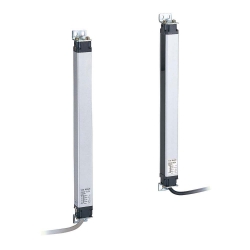 Beam interval: 40mm
Anti Interference feature for parallel installation (M/S switching)
Longest-in-class detecting distance of 7m
Standard・Official Approval
SS40 Series Lineups
| Model | Type | Detection method | Detecting distance Min (mm) | Detecting distance (mm) | Detecting object (dia.) | Beam interval (mm) | Detecting width (mm) | Control output | Download |
| --- | --- | --- | --- | --- | --- | --- | --- | --- | --- |
| SS40-T4 | Light curtain sensor | Through beam | | 7000 | 52.0 | 40.0 | 120 | NPN | |
| SS40-T6 | Light curtain sensor | Through beam | | 7000 | 52.0 | 40.0 | 200 | NPN | |
| SS40-T8 | Light curtain sensor | Through beam | | 7000 | 52.0 | 40.0 | 280 | NPN | |
| SS40-T10 | Light curtain sensor | Through beam | | 7000 | 52.0 | 40.0 | 360 | NPN | |
| SS40-T12 | Light curtain sensor | Through beam | | 7000 | 52.0 | 40.0 | 440 | NPN | |
| SS40-T16 | Light curtain sensor | Through beam | | 7000 | 52.0 | 40.0 | 600 | NPN | |
| SS40-T20 | Light curtain sensor | Through beam | | 7000 | 52.0 | 40.0 | 760 | NPN | |
| SS40-T24 | Light curtain sensor | Through beam | | 7000 | 52.0 | 40.0 | 920 | NPN | |
| SS40-T4-PN | Light curtain sensor | Through beam | | 7000 | 52.0 | 40.0 | 120 | PNP | |
| SS40-T6-PN | Light curtain sensor | Through beam | | 7000 | 52.0 | 40.0 | 200 | PNP | |
| SS40-T8-PN | Light curtain sensor | Through beam | | 7000 | 52.0 | 40.0 | 280 | PNP | |
| SS40-T10-PN | Light curtain sensor | Through beam | | 7000 | 52.0 | 40.0 | 360 | PNP | |
| SS40-T12-PN | Light curtain sensor | Through beam | | 7000 | 52.0 | 40.0 | 440 | PNP | |
| SS40-T16-PN | Light curtain sensor | Through beam | | 7000 | 52.0 | 40.0 | 600 | PNP | |
| SS40-T24-PN | Light curtain sensor | Through beam | | 7000 | 52.0 | 40.0 | 920 | PNP | |
Dimension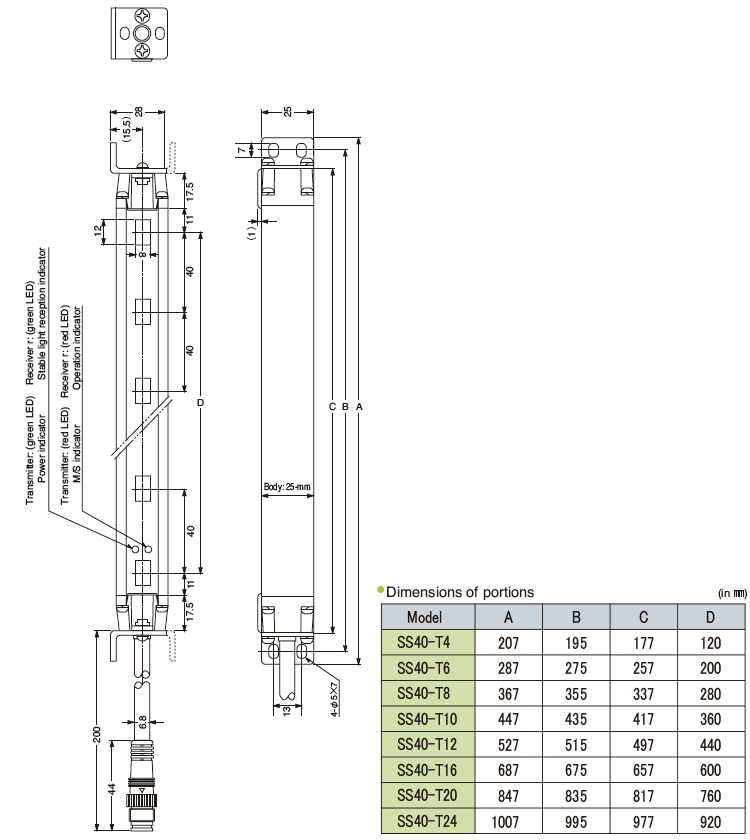 Only receiver is shown in the figure as an example.
With transmitter, orientation of mounting bracket is reversed.
Back view (common to all sensors of the series)

Cable with connector (accessory)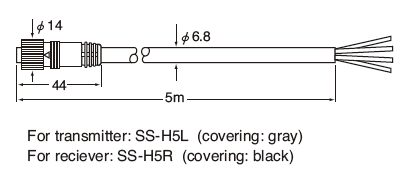 Circuit
NPN output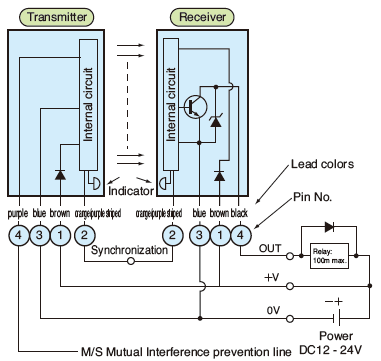 PNP output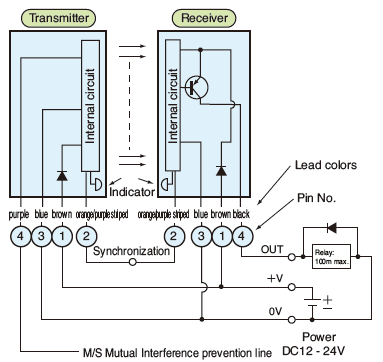 The output transistor turns off when load short circuits or overload occurs. Check the load and turn the power back on.
When not using the Anti Interference feature, leave the M/S Mutual Interference prevention line unconnected and ensure it will not come in contact with any other cable.
Connector pin assignment

Rubber/Plastic
Detection of hole or tear in opaque sheet
Wide area sensor equipped with one-axis output and all-axis output modes provides the detection of a hole or tear by activating the output when light is received in one or more axis.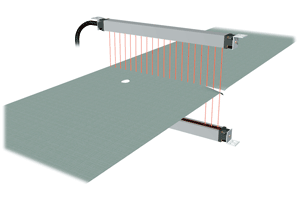 etc.
Detection of remaining person
CD area checked for remaining person at closing time.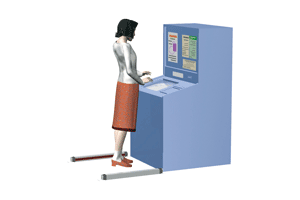 Option
Cable with connector
Cable with connector

SS-H5L SS-H5R

Description
Cable with connector
Discrete model No.
SS-H5L (For transmitter)
SS-H5R (For receiver)
Length
5m
Description
(6.8mm outer diameter, 0.5mm2 x4 cores, gray (transmitter) or black (receiver) covering)

Cable with connector

SS-H10L SS-H10R

Description
Cable with connector
Discrete model No.
SS-H10L (For transmitter)
SS-H10R (For receiver)
Length
10m
Description
(6.8mm outer diameter, 0.5mm2 x4 cores, gray (transmitter) or black (receiver) covering)