F70A Series

Digital display Fiber optic sensors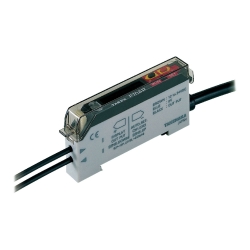 Digital indication of sensing information
Simple operation for setting functions
Two-way monitoring is available.
Level and gap indication alternates with every one push of the button.
Readily visible backlight LCD.
Various convenient functions provided

Full auto/auto teaching
Mutual Interference prevention
Manual sensitivity setting
Off delay timer
Standard・Official Approval
F70A Series Lineups
Model
Power supply
Control output
Operation mode
Light source
Response time (ms)
Connection
Use application
Download
F70AR

12 - 24VDC
NPN
Dark-ON
Light-ON
Red LED
0.600
0.700
Attached cable
semiconductor / LCD
precision instruments / electronic components
F70AG

12 - 24VDC
NPN
Dark-ON
Light-ON
Green LED
0.600
0.700
Attached cable
semiconductor / LCD
precision instruments / electronic components
F70AB

12 - 24VDC
NPN
Dark-ON
Light-ON
Blue LED
0.600
0.700
Attached cable
semiconductor / LCD
precision instruments / electronic components
F70AW

12 - 24VDC
NPN
Dark-ON
Light-ON
White LED
0.600
0.700
Attached cable
semiconductor / LCD
precision instruments / electronic components
F70ARPN

12 - 24VDC
PNP
Dark-ON
Light-ON
Red LED
0.600
0.700
Attached cable
semiconductor / LCD
precision instruments / electronic components
F70AGPN

12 - 24VDC
PNP
Dark-ON
Light-ON
Green LED
0.600
0.700
Attached cable
semiconductor / LCD
precision instruments / electronic components
F70ABPN

12 - 24VDC
PNP
Dark-ON
Light-ON
Blue LED
0.600
0.700
Attached cable
semiconductor / LCD
precision instruments / electronic components
F70AWPN

12 - 24VDC
PNP
Dark-ON
Light-ON
White LED
0.600
0.700
Attached cable
semiconductor / LCD
precision instruments / electronic components
F70AR-J

12 - 24VDC
NPN
Dark-ON
Light-ON
Red LED
0.600
0.700
M8 connector
semiconductor / LCD
precision instruments / electronic components
F70AG-J

12 - 24VDC
NPN
Dark-ON
Light-ON
Green LED
0.600
0.700
M8 connector
semiconductor / LCD
precision instruments / electronic components
F70AB-J

12 - 24VDC
NPN
Dark-ON
Light-ON
Blue LED
0.600
0.700
M8 connector
semiconductor / LCD
precision instruments / electronic components
F70AW-J

12 - 24VDC
NPN
Dark-ON
Light-ON
White LED
0.600
0.700
M8 connector
semiconductor / LCD
precision instruments / electronic components
F70ARPN-J

12 - 24VDC
PNP
Dark-ON
Light-ON
Red LED
0.600
0.700
M8 connector
semiconductor / LCD
precision instruments / electronic components
F70AGPN-J

12 - 24VDC
PNP
Dark-ON
Light-ON
Green LED
0.600
0.700
M8 connector
semiconductor / LCD
precision instruments / electronic components
F70ABPN-J

12 - 24VDC
PNP
Dark-ON
Light-ON
Blue LED
0.600
0.700
M8 connector
semiconductor / LCD
precision instruments / electronic components
F70AWPN-J

12 - 24VDC
PNP
Dark-ON
Light-ON
White LED
0.600
0.700
M8 connector
semiconductor / LCD
precision instruments / electronic components
Feature
Simple operation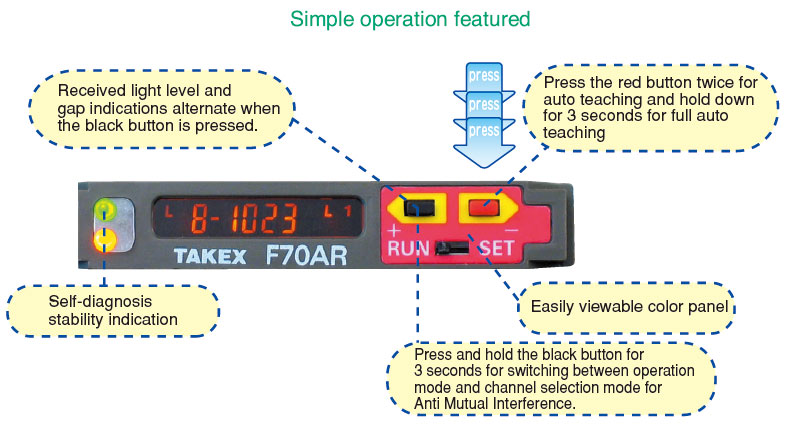 2 types of received light level indication

Enhanced teaching features (sensitivity setting)
Full auto teaching
Simply pressing the button allows easy teaching; even for an object moving at a high speed.
Auto teaching
2-point teaching "with" and "without" the work allows the detection of slight level difference such as the thickness of a piece of work and the presence of a film.
Position teaching
This feature is ideal for high accuracy positioning that requires accurate determination of a detecting point.
Maximum sensitivity setting
For applications requiring maximum sensitivity setting such as the detection of work with a through beam type fiber optic cable, the extra powerful light allows for use in an adverse environment.
Manual setting
Arbitrary manual increase and decrease of a "set point" allows level setting while checking the operation.
Secure output for any type of device with the off delay timer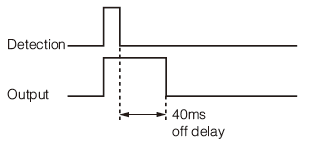 A small object moving at a high speed can be securely detected.
The off delay output enables matching a range of input configurations of connected devices.
Dimension
Amplifier unit (cable type)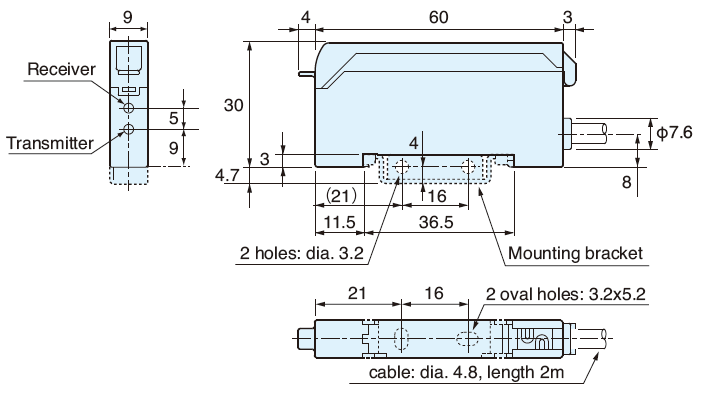 M8 connector type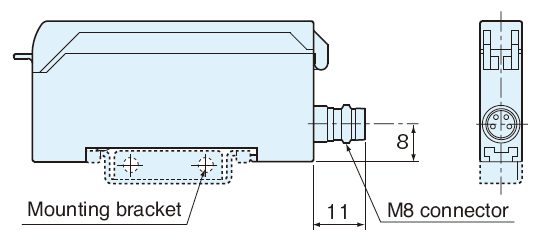 Circuit
NPN output
F70AR
F70AG
F70AB
F70AW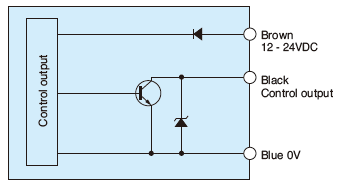 PNP output
F70ARPN
F70AGPN
F70ABPN
F70AWPN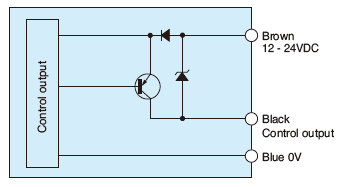 In the condition of load short circuit or overload, the output transistor turns off. Check the load condition before restarting.
M8 Connector Type Input/Output Specification, Pin Assignment and Lead Colors

Electronic Component Mounting
Checking of presence of silver paste
Even a small amount of paste can be detected with a spot size of 0.5 mm in diameter.